Otolift Air Curved Stairlift
The Otolift Air Curved Stairlift is a classic and highly reliable stair lift. Otolift specially designed the Air for narrow and steep stairs having the thinnest tubular rail system on the market. However, the Otolift Air curved stairlift can also be used on virtually any other configuration of curved staircases. Every Otolift Air offers a smooth ride even on the most complex stairs. Furthermore, with  its advanced Reverse Drive Technology, the Air can travel partly or entirely backwards. As a result it can be installed on most narrow stairs without the risk of hitting the wall or handrail with your knees.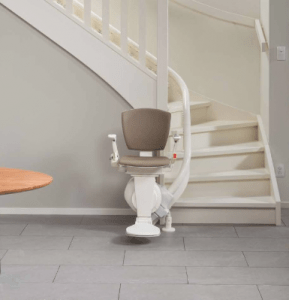 Safety:
The Otolift Air has a lifting capacity up to 125 kg (19½ stone) and all the safety features you would expect. For example, these include a retractable reel lap seatbelt and safety sensors which stop the Oto Air if its path is obstructed. All  materials used are inflammable or flame retardant. There is a lockable on/off switch to prevent unauthorised use.
Standard Features:
As well as the safety features above, all Otolift Air Stairlifts are battery operated. This means you can still use the stairlift during a power cut. Once the power is restored the stairlift will recharge the batteries. Also the ergonomic user-friendly control on arm needs only a light touch to operate the stairlift. Likewise, the manual swivel seat is easy  to operate and ensures the stairlift is in the optimum position for you to safely get on and off at the top of the stairs.There are two remote controls, one for upstairs and one for downstairs so you can always call the lift to you when required.  Together with the thin tubular rail, automatically folding footrest and folding seat, the Otolift Air takes up little room when not in use thereby leaving plenty of room for other stair users.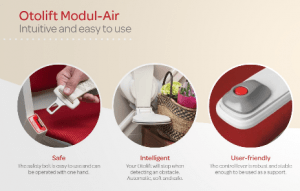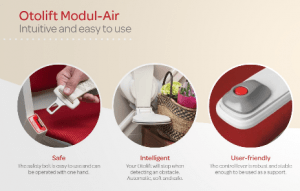 Optional Extras:
A range of upgrades and extras are available for the Otolift Air stair lift for curved stairs. These may be required due to the design of your stairs, your requirements, or simply for your convenience. Our experienced surveyor will discuss these with you and make recommendations at the time of the survey.
1. Powered swivel – allows lift to move into parked or swivel position at the touch of a switch.
2. Powered swivel with swivelling footrest – allows for an angled travel position therefore maximising clearance on the stairs.
3. Short Start – With a short start track the Oto Air can usually be installed even if there is a doorway at the bottom of the stairs.
4. Top Overrun – The track continues over top step to take user away from danger at top of stairs.
5. Safety Harness – 4 Point H-fixation, or 5 point full harness available.
6. Colour Options – There is a choice in upholstery and paint colours.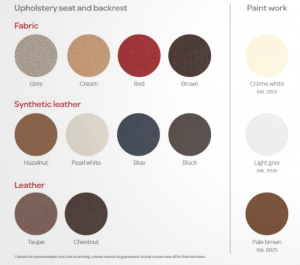 Downloads:
Customer Reviews for Otolift Stairlifts: