Platinum Ultimate Curved Stairlift 
The Platinum Ultimate curved stairlift has been selected by Obam for its innovate design and reliability. Due to these innovations, the Platinum Ultimate stairlift can be fitted on staircases deemed unsuitable by many other manufacturers.
Platinum have been making stair lifts since 1996. They have a state of the art facility in Yorkshire where they design and manufacture all of their high quality stairlifts. All Platinum stair lifts are designed & built in accordance with EN81:40 so you can be assured of their quality and safety.
The Platinum Ultimate curved stair lift uses a neat single tube rail. The rails diameter is 80 mm (just over 3″) and will be custom made to precisely fit your staircase. It will fit any angle up to 75° and with multiple bend radii from 210 mm to 500 mm. The rail can start on the first step preventing intrusion into the hall. This is especially useful when there is a doorway at the foot of the stairs.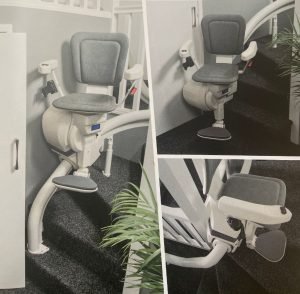 With the addition of the optional power swivel, the Platinum Ultimate Curved Stairlift has the ability to negotiate narrow stairs with tight bends with backward or forward facing travel. It can also clear most low bulkheads which can prevent the installation of other stairlifts.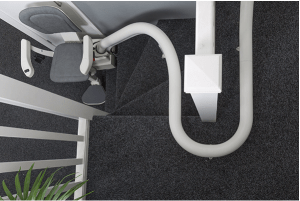 Standard features:
On/off key switch – You can safely prevent unauthorised use (eg by children) using the key switch.
Battery operated – The Batteries are kept fully charged from the mains power supply when the stairlift is not in use. This means you can still use your stairlift during a power cut.
Retractable lap belt seat belt – comfortable seatbelt for your safety.
Ergonomic control on arm of chair – Easy and comfortable to use. Choice of joystick or rocker switch on either arm.
Manual Swivel – Easy to use manual swivel manoeuvring to 45° & 85° positions.
Remote Controls – Two remote controls
Capacity – Up to 120 kg (19 stone)
Adjustable – The back and arm rests are adjustable for the users comfort.
Safety Edge Sensors – Built in sensors will stop the Platinum Ultimate Stair lift if there is an obstruction.
Folds Up – When not in use the seat, arms and footrest will fold up reducing the space it takes up. This allows other stair users more room to pass the stair-lift.
Digital Display – Offers real time diagnostics.
Space Saving – When not in use and fully folded, the Platinum ultimate  projects 375mm (approx 15″) from the wall.
Optional features:
Power Swivel – After reaching the top of the stairs, the chair automatically swivels the chair away from the stairs allowing you to safely get off or on. This also allows for backward or forward facing travel to negotiate narrow stairs. Forward facing travel can provide comfort for users with vertigo and similar conditions. By enabling the user to face the stairs, rather than away, relieves the discomfort of the visual distance from the stairs. Unlike other stairlifts, the power swivel is also available on the heavy duty version.
Heavy Duty – The heavy duty version has a maximum weight capacity up to 160 kg (25 stone)
Additional Charge Point – Gives the option of sending the lift to a park point to prevent obstructing a hallway or landing when lift is not in use.
First step start (Smart Start) – This option gives zero rail intrusion at the bottom landing terminating the rail on the first step rather than the ground floor. This option also includes an intermediate park / charge point so you can send the stairlift out of the way when not in use.
Upholstery – Option of 5 colours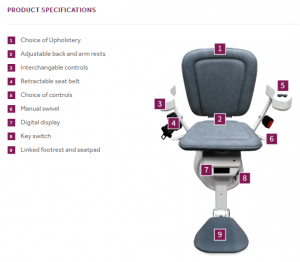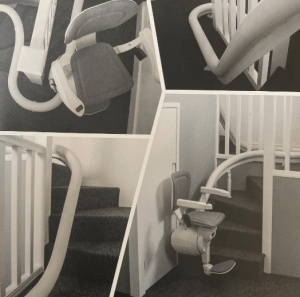 Brochure:
About Platinum:
Platinum started making stairlifts in 1996. Being based in Yorkshire all their products are British made. During this time they have become known for their comfort, quality and reliability. Obam are very proud to be a Platinum Authorised Dealer supplying UK made quality stairlifts.
Customer Reviews for the Platinum Ultimate Stairlift:
Brand: Platinum
SKU: PLATULT