Ramps

Our range of public and domestic ramps ensure people living with a disability can adapt their home to ensure even the most mundane of tasks aren't difficult for them. Our range of disabled access ramps for houses are designed to hand back independence and enhanced everyday mobility to those who need it most. 
By using a ramp you can create an access point for a work place or business. This simple addition will transform its use. It's important to consider how such small changes can open venues to a wider use. We have a wide range of disability access ramps that you can come and see at our showroom in Sturton-by-Stow, near Lincoln.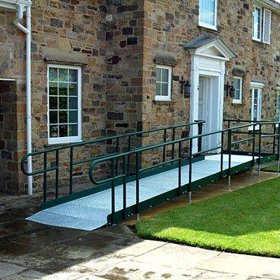 Modular ramps support independence, aid access to homes and gardens and are made of high-quality, durable materials. Our range of access ramps from Easiaccess are very versatile and can transform your life. They will make it much easier for you to enter and leave your house. Above all, having Obam install a ramp on your house could mean you can remain in your own home.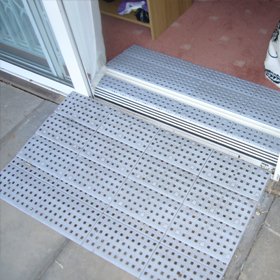 THRESHOLD RAMPS
We have a range of fixed and portable ramps that can help reduce the risk of trips and falls and ensure the smooth transition of wheelchair users up to and through a door. They can help overcome problems caused by threshold strips, door frames and minor changes in levels. Our range of threshold ramps includes metal, modular plastic and rubber ramps.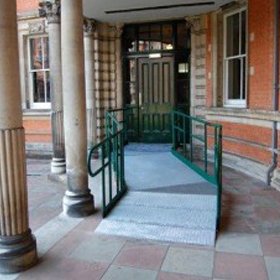 PUBLIC ACCESS RAMPS
Promoting safer access into business premises is paramount. These modular ramp systems support patrons with walking aids as well as those in wheelchairs. Our Public Access ramps are manufactured in accordance with current legislative standards. They will help your building comply with disability access laws which state that you have a "duty to make reasonable adjustments for disabled people".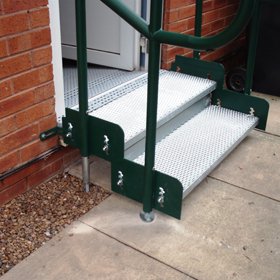 STEPS
Pair access steps with a secure handrail to make entry into your home and from your home to your garden as easy and carefree as possible. These access steps could help if the step up into your house or bungalow is too high for you to manage comfortably. Being adjustable and secure they can also be combined with internal ramps.  This will make your doorway as safe and easy as possible.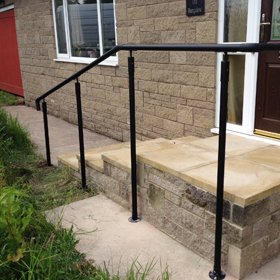 HANDRAILS
Handrails can improve safety and offer support on existing steps. For example up and down a path or around the garden. They can also support people with mobility problems as they walk up steps or a ramp to your business.
Interested in how Obam can help more people access your business or leisure facility?
Read our Considered Construction article.
GALLERY