Stairlifts

If you are having difficulty going up and down your stairs we can help. We provide a range of straight and curved stairlifts. Each one of our products is designed specifically to suit your needs and adapt to the surroundings. Our team of technical surveyors are specially trained to ensure even the most difficult flight of stairs can be transformed. Did you know that we can also fit stair lifts to the outside of a property restoring access for you up and down steps in your garden? So whether you are looking for a straight stairlift or something more bespoke for your curved staircase we have the experience needed to meet your requirements. 
We stock a wide range of straight and curved stairlifts from the major manufacturers. By carefully selecting the best stairlifts each manufacturer has to offer we can provide stairlifts for most requirements. For instance, a stairlift with a Perch Seat for people who have difficulty bending their knees or hips and therefore need to travel in a standing position. Most are available to view and try in our showroom at Sturton by Stow, Lincolnshire. We would always recommend making an appointment to visit our showroom. Full details are on our Showroom page. Click here to find us on Google Maps (opens in new window).
To help you make your decision and get to know more about the stairlift installation process we have provided a Frequently Asked Questions page. We also have a page of reviews so you can see what level of service we regularly offer to each one of our clients.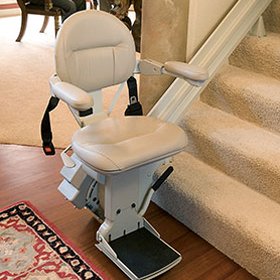 Attached to the stairs rather than the wall a straight stairlift will take you safely between floors in your home. They provide a greater level of independence for many elderly residents and are our most popular option (for anyone with straight stairs of course).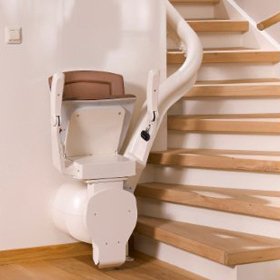 With a bespoke design to accommodate curved staircases, these are made to measure for you and your home. An engineer will come out to scope the space and give you the precise solution you need to assist mobility between the floors in your home. Obam stock curved stairlifts to cope with most problems encountered with staircases. For example, this includes narrow stairs with sharp turns, intermediate landings, doorways close to the top or bottom of the stairs and even most spiral staircases.
Sometimes you might require a stairlift for a short time, for example, if recovering from an accident or operation. We can provide straight stairlifts on a rental basis. While you are renting the stairlift, the hire cost covers all maintenance which makes budgeting easy.
If you are looking for a second hand stairlift we stock a wide selection of fully refurbished stair lifts. Each reconditioned stairlift is thoroughly cleaned, inspected and refurbished to a very high standard. All come with one years warranty.
Looking for some more information about how stairlifts can be designed with your specific needs in mind? Read our Adaptation Advice article  or our Benefits of installing a stairlift article. The British Health Trades Association also have an informative leaflet available here.
GALLERY