FAQs

Below you will find a list of Frequently Asked Questions (FAQs). We hope we have answered your query here but if not, please do contact us.
My Stairlift is Beeping. What does this mean?
If your stairlift is beeping continuously when not in use it usually means it is not charging the internal batteries. The most common reasons are:
The stairlift is not parked on a charge point (if it has them)
It is turned off at the wall (perhaps accidentally, eg by a cleaner)
The stairlift is turned off at the key switch
Check it is the stairlift beeping. We do get called out only to find the beeping is coming from elsewhere. Most commonly a smoke alarm warning its battery is low!
Resolution:
Check the stairlift is turned on at the wall and on the stairlift itself.
Make sure the stair lift is on its park point (usually at the top or bottom of the staircase). Using the remote to make the stairlift move a short distance and then return it to the park point.
Still need help:
If you can't resolve your stairlift beeping issue and you're already an Obam customer give us a call. If your not already one of our customers we can still help as long as you are in our service area.
Can I try different Stairlifts before making a decision?
Yes, you can try different stairlifts in our showroom. Choosing the right stairlift can be difficult. It depends on a lot of factors. These include your requirements and the type of staircase you have.
In our Lincolnshire showroom we have 11 different working stairlifts so you can see the differences for yourself. We would always recommend making an appointment to visit the showroom.  This will ensure one of our expert advisers is available. Our adviser will answer all your questions and recommend the most suitable stairlift for you. Full details of our showroom are available HERE.
What happens when there is a power cut?
Our stairlifts are battery powered, which means you can continue to use your stairlift during a power cut. Once the power is restored, your stair lift will recharge it's internal batteries when it is parked. During the power outage your stairlift will beep as it is not receiving any power from the mains.
My staircase and landing are very narrow, will there be space for a stairlift?
Narrow stairs and landings do not normally rule out having a stairlift. Most stairlifts now have folding arms, seats and footrests, which means they can fold away when they're not in use. Not only does this give you plenty of space to move around, but it also ensures your family can still get up and down the stairs safely.
Many of our stair lifts have slim rail options if space on the stairs is tight. We will discuss this with you in more detail during our survey visit. If you are within our service area please contact us to arrange your free, no obligation survey and quotation.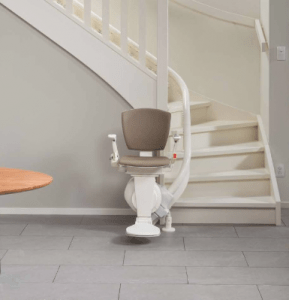 How do I get the right lift for my stairs?
There is lots of information on our website for the stairlifts we stock. However there are many different factors which influence which stair lifts may be suitable for you. These include your requirements and physical abilities as well as restrictions and limitations of your stairs.
We will carry out a full survey and advise you on which lifts are suitable and those that are not. If there are several suitable lifts for you we will discuss them with you and provide quotes and brochures for them all, if required. Our survey and quotes are free and no obligation for anyone in our region.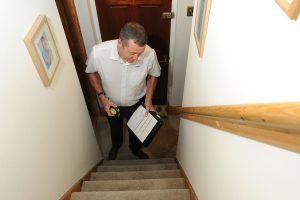 How do you install a stairlift?
Stairlifts are secured to the stairs rather than the wall, so our engineer will clear the immediate area and then place the stairlift rail along your stairs before securing it in place. If you currently have handrails on both sides of a closed stair then one side will be removed so that the chair can move freely along the rail.
Once the rail is in place the engineer will add the chair and programme it to manoeuvre up your staircase. All curved tracks are custom made for your staircase and the stairlift is programmed to the track. This makes sure you have the best fit possible for your stairlift and the best ride experience available.
Before the engineer leaves, they will ensure all cables are tidied away and give you, and, if necessary, your family members, a demonstration of how to call, use and fold away your stairlift. The engineer will also leave you a copy of the user manual for your stairlift.
The engineer will then ask you to sit in the chair and help you assess the comfort and ease of use. If the controls need moving to the other chair arm or you would prefer an easier control button, we'll get this in place before we leave.
What is the installation time for a stairlift?
We usually ask our customers to allow half a day for an installation, but stairlifts can be fitted on a straight staircase usually within 1-2 hours but it does depend on the complexity of the staircase. Once you've had an initial assessment, we'll be able to give you a much better indication on time. Call us on 01427 787313 to book your appointment today.
In the event of a breakdown will an engineer actually attend, even at night, at the weekend or during a bank holiday?
Our products are simple and safe to use, but in the unlikely event that there should be a problem, we're on hand 24/7, 365 days of the year to put it right.
How do I get the right lift for my condition?
We will carry out a full survey and advise you on which lift is most suitable for your needs.
What are your lead times?
We hold straight lifts on stock so delivery can be in a few days. Typically, a curved lift would be four to five weeks but we can achieve much quicker times on certain lifts. Please give us a call on 01427 787313 to discuss your individual case.
What is the cost of a stairlift?
Our range of stairlifts vary in price; for an individual cost, which involves assessment and bespoke fitting by one of our experienced engineers it's best to give us a call on 01427 787532.
Do you offer stairlift servicing and stairlift repairs?
Do you have stairlifts to rent or second hand stairlifts for sale?
We offer an economical rental service for straight stairlifts. Alternatively, you may wish to buy a second-hand, fully reconditioned stairlift. Reconditioned stairlifts are available for both straight and curved staircases although a new rail is normally required for curved stairs.
How do I know which stairlift is right for me?
Don't worry, Obam has over 100 years' combined experience in this area and after a thorough assessment and investigation of the property and your individual needs, we will make recommendations for you to consider.
Still got a question? Call our team on 01427 787 532  or use the "Ask a Question" form on this page.