Careers
Are you looking for a career in the stairlift industry? If so, the Obam Careers & Vacancies page is an excellent starting point.
Vacancies:
---
Fulltime stairlift engineer is required by an award-winning family business – Obam Stairlifts Ltd.  Obam are an independent specialist based close to Lincoln. We carry out installation, maintenance and repairs to a wide range of stairlifts, ceiling track hoists, through floor lifts and ramping solutions.
We are seeking a technically qualified engineer. Although experience of installing and repairing stairlifts is highly desirable, however, we welcome applications from engineers with a similar background.  We are willing to provide training where required. Ideally you will be based in Lincolnshire / Nottinghamshire.
The company has recently celebrated 20 years of trading and is looking forward to welcoming a new engineer to the team.
What we are looking for;
Full-time permanent lift engineer.
Ideally experienced in installing, maintenance and repair of stairlifts, hoists and through floor lifts.
Preferred to have a technical qualification or experience as a lift or electrical engineer.
You must be able to demonstrate competence – ideally in fault diagnosis and installation of equipment.
Experience of service and maintenance of electro/mechanical products.
Full clean UK driving license.
As an Installation Engineer you will be:
Installing, servicing and carrying out repairs to stairlifts, hoists and through floor lifts and ramps.
Trustworthy, reliable and well presented.
Be able to communicate with customers.
Join the out off hours engineer call out rota covering some weekends and evenings.
Apply for this Stairlift Engineer Job today. Email your application and CV to Info@Obam.co.uk
Published 24/12/2020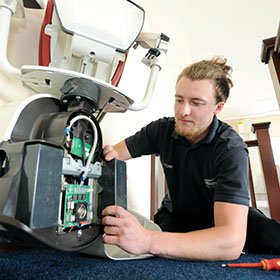 ---
Careers:
If you want a successful career in the Stairlift industry check our vacancies. Even if we are not actively recruiting we will always consider applications from dedicated, outgoing, customer service driven individuals.
We're looking for experienced and capable people to join our team of passionate engineers / sales people and administration staff.
If you'd like to find out more, send us an email with a copy of your CV to
Info at Obam
Last updated 12/02/2021