StairSteady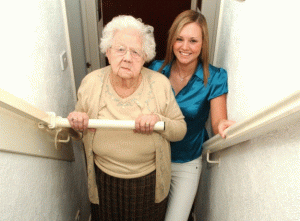 The StairSteady can help if you have some difficulty getting up and down stairs but do not require a stairlift. The Stair Steady is a high quality fixed handrail and a sliding supporting handle that moves freely when pushed but locks in place when weight is applied. It acts as firm support for either climbing up or coming down the stairs.
The sturdy handle lets you have both hands in front of you as you go up or come down the stairs. You can travel at your own pace and once you reach the top or bottom the handle folds neatly away.
The StairSteady is manufactured in the UK to the highest standards complying with ISO 9000.
The StairSteady  can help people with a wide range of needs. It isn't simply for the elderly and infirm. The Stair Steady has been used for people who are recovering from strokes, head injuries and chemotherapy as well as people with amputations and long term medical conditions such as M.E., diabetes and obesity. It has also been able to help people with specific needs such as being partially sighted. It is tested for use by people weighing up to 25 stone (158 kg).
The short video below demonstrates the StairSteady in use. You can try a StairSteady in our Lincolnshire showroom before you make a decision.
Video of StairSteady in use:
The history of the StairSteady
Sheffield girl Ruth Amos was only 15 when she invented the Stair Steady. Ruth's teacher set a challenge to design an aid for people with limited mobility to use the stairs. Ruth designed the Stair Steady as a result for her GCSE resistant materials project.
Ruth won the prestigious 'Young Engineer for Great Britain' for the StairSteady. In 2013 the StairSteady was awarded 'Best Established Product' by the British Healthcare Trade Association. Ruth's company has continued to grow.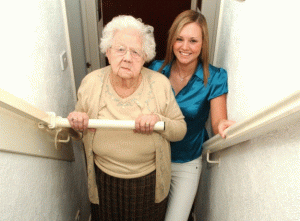 Customer Reviews: