Easiaccess Ramp Systems for Wheelchair Access
Here at Obam we stock the Easiaccess Ramp Systems. This modular ramp system provides the maximum versatility with excellent value for money.
Easiaccess are the UK's largest metal modular ramping company.  They provide a wide range of access solutions from small handrail systems to large metal modular ramps. All ramp and step components are galvanised. This provides protection against corrosion. In addition, the sides and handrails are powder coated in either green or black. The edging kerb is 100mm high and the matching hand rail is easy and comfortable to grip.
Being modular, the Easiaccess Ramp Systems is very versatile. There are limitless combinations of parts. We can therefore find a solution for most access issues faced by wheelchair users. Whilst our skilled installers will complete most systems in a day, larger ramps may require 2 days to complete.
What are the benefits of Easiaccess Ramp Systems?
This system offers many benefits over traditional concrete ramps. For example, it can be used immediately after the installation has been completed. The thick, galvanised, non-slip expanded metal floor sections allow water to pass through. This offers maximum grip even in icy conditions. Being modular, should your needs change, or you decide to move, the metal ramp system can be easily dismantled leaving minimal damage or marking. This makes our ramps a popular option for rented homes. A wide range of accessories are also available. These include platforms, steps, gates, balustrade handrails, etc.
Furthermore, the Easiaccess home ramp system is much stronger than wooden ramps. For example, they require no maintenance other than keeping free of fallen leaves, etc. Wooden ramps require a regular regime of cleaning and treating with timbercare which acts as a preservative. This slows down rotting which would make the ramp unsafe.
How long does my ramp need to be?
The length of ramp required depends on several criteria. For example, the height of the doorstep and slope (if any) of the land.  Even the type of wheelchair requiring access (powered or manual, etc) can make a difference.  These factors determine the required gradient (slope). This, in turn, dictates the length of the ramp.
Survey and Quotation process:
At an agreed time, one of our expert surveyors will visit you at your house. To begin with they will discuss your requirements. During the appointment, the surveyor will carry out a site survey. The surveyor will take detailed measurements which may include taking photographs of the area. We then provide a full, no obligation quotation. Usually the quote is accompanied by both a plan of the proposed ramp and a 3D representation. This will help you visualise how the access ramp system will look. The consultation, survey and quote are all free of charge.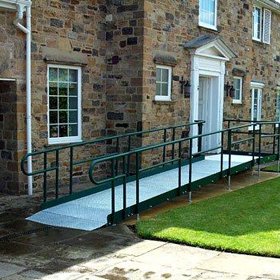 What is the cost of the Easiaccess Ramp Systems?
Our prices for these good quality modular ramp systems start from around £1595.00. This example price is for the ramp system pictured below. We have assumed the existing ground is suitable ground for the ramp. Installation within our service area is included. Generally, any ground works required (paving slabs, gravel, etc) are chargeable. We will itemise groundworks in your free, no obligation quote.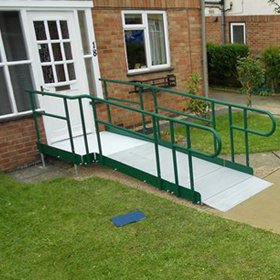 Summary:
To summarise, the correct ramp system will transform your life.  Our ramps make it easier and safer for you to move in and out of your house.  When compared to wooden ramps they provide a longer lasting and potentially safer solution. Also, unlike concrete ramps, we can easily remove or alter the ramp if required. Modular metal ramping also has handrails included.
Don't feel trapped in your house any longer. With the easiaccess modular ramp system we can make accessing the outside easier. Call today on 01427 787532 to arrange your free consultation and quote or fill out the request a callback form on this page.
Click Here to download the Easiaccess Ramp Specification Sheet
Customer Reviews: