Flow X Stairlift for Curved Staircases
Introduction to the Flow X Stairlift:
AccessDBB have taken a long look at stairlift design and produced the Flow X curved stairlift. They say the FlowX is their most complete stairlift and we agree, it certainly is impressive. Every aspect of a curved stairlift has been analysed and, in most instances, improved on. The resulting Flow X stairlift provides outstanding levels of comfort, confidence and craftsmanship. A lot of thought has been applied to the look of the stairlift as well. After all, it is going to be in your house and should be aesthetically pleasing. In fact, it should look like part of the furniture in your house. The seat and back have benefitted from new designs with improved, high quality materials and attractive contrasting stitching.
Some feature in the above video are optional upgrades
Innovation:
The wide, comfortable seat is reclined by five-degrees encouraging a more natural, healthy and comfy posture. Also the height adjustable foot rest is positioned for maximum comfort and folds away with the seat when not in use. In the folded position the FlowX is very compact allowing plenty of room on the stairs for other people in the household. With the adjustable footrest and unique, completely automatic folding, using a stairlift has never been easier.
Both arms attach to the chair back, rather than the seat and lock into place in four positions. This makes the seat more comfortable and allows for easier side transfer into and out of the stairlift, for example, from a wheelchair.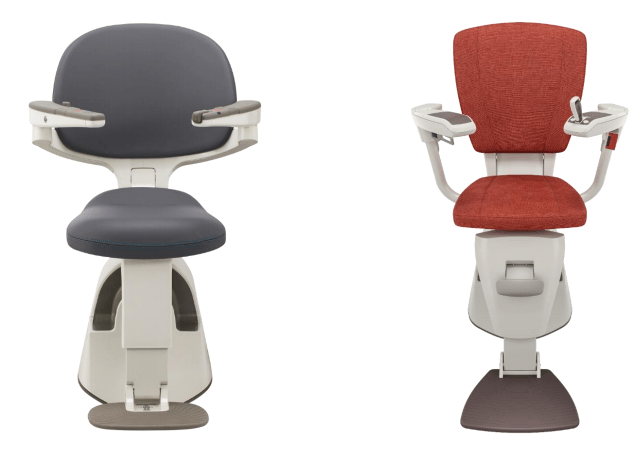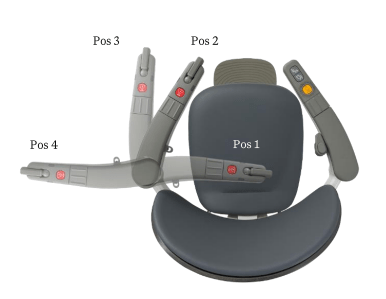 The re-designed ergonomic seatbelt enables effortless one-handed operation whilst the multi position armrests have numerous inbuilt features. The control toggle folds flat when not in use which makes getting in and out of the stairlift easier. The emergency stop button is now located on the armrest as is an "embedded call device".
Connected:
The embedded call device will connect to the household DECT phone and will be programmed to call three numbers in an emergency. As an added benefit it can be used to answer incoming calls whilst you are using the stairlift. The armrest also contains 2 status lights, one of which should be visible at all times during use.
A large, intuitive remote control and clear status indicator mean that calling and parking have never been easier. There is just one button to call the lift to you and another to send it to the park (charging) position. If the automatic seat and folding footrest option was ordered there is a button to fold and unfold the stairlift from the remote control as well.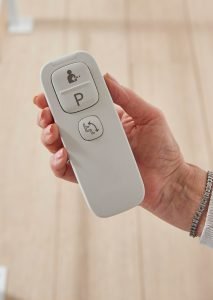 Conclusion:
In summary, the Flow X stairlift offers comfort for all while still being Access' most space-conscious, user friendly stairlift to date. With high-quality fabrics and finishes used throughout, the Flow X will blend seamlessly into your home and is an excellent choice for narrow stairs.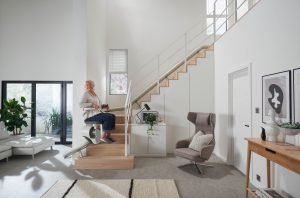 Flow X Stairlift Brochure:
Customer Reviews: