Domestic Lifts
Designed for safety, flexibility and independence, domestic through floor lifts will enable freedom of movement throughout the whole of your home. They provide easy access to all floors of your house. We apply strict criteria when selecting which through floor lifts to stock. Safety and reliability are paramount. As a result we only deal with reputable manufacturers.  In addition we select their best products. In fact, the Wessex VM lifts are the most installed domestic through floor lifts in the UK. It is also our most popular lift. Our range of home lifts are quiet, discreet and smart looking. Most domestic lifts will give wheelchair users freedom to access every floor. Other lifts, such as the Elesse by Wessex, are an alternative to stairlifts.  The Elesse carries one or two standing or perched users.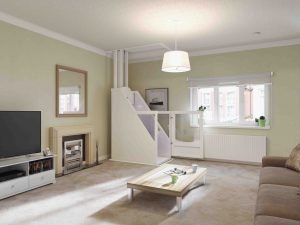 Installing a domestic through floor lift usually requires less work than you would imagine. Often there are no structural alterations to your house required. The main work usually required is cutting the aperture in the floor of the room above and in the ceiling if the room below. Therefore installations are normally completed within two days.
Click here to read our article on domestic through floor lifts.
Contact us to discuss your requirements and book your free survey.
Obam are members of the British Healthcare Trades Association and follow their Trading Standards approved code of conduct.