SP500 Steplift
The Wessex SP500 Low Rise Steplift is ideal if a ramp is not possible. This is usually due to insufficient room for a ramp of a suitable gradient. It is compact and has a shallow ramp for easy access. Incidentally it is suitable for both interior and exterior applications. It will make changes in levels of up to 500mm accessible. The installation of steplifts (platform lifts) alongside existing steps provides access for wheelchair users. In public buildings this helps you comply with disability access laws.
There is an optional bridging plate. With this configured the step lift can be placed directly in front of the steps. This enables both walking and wheelchair use of the steps. The SP500 Steplift has a safe working load of 250 kg (39 stone). For full details and dimensions see the brochure available to download below. Supplied in Bleu Sable Fine Texture, architectural powder coating from the Futura range by Akzo Nobel as standard. Other colours available (additional costs may apply).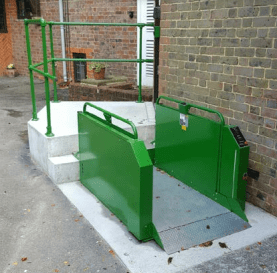 Safety:
As you would expect safety is paramount. The Wessex SP500 is robust and compact with a large platform area. There are safety edges all around the platform to stop the lift if there is an obstruction. Finally with battery back up and emergency manual lowering you can be confident that a power cut would not cause entrapment.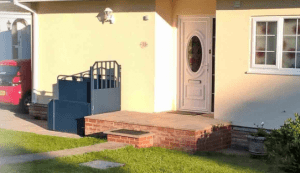 SP500 Steplift Brochure:
Wessex Low Rise Steplift SP500 (opens in new window or right click and select "save link as" to download a copy)
Customer Reviews: