Wessex VM Through Floor Domestic Lift
The Wessex VM range of domestic through floor lifts have been available for over 20 years. They are our most popular home lift. As a result, there are over 10,000 Wessex VM lifts installed in the UK alone, with many more worldwide. If a stairlift is not suitable for you, or your staircase is not able to have a stair lift fitted, then these domestic lifts could be the solution to gaining access to the upper floor of your house. For some people it is a matter of choice, they prefer to have an elevator style lift installed instead of a stairlift.
We install most domestic lifts to travel directly from the lounge to the bedroom above, though they can be sited in any suitable room. Structural alterations are not normally required other than making the aperture in the floor of the room above and in the ceiling if the room below. Installation is normally completed in just a few days. We take care of every aspect of the installation for your peace of mind.
The Wessex VM lifts are well designed, reliable and easy to use. Suited to both ambulant (walking) and wheelchair users up to a total weight limit of 250 kg (39 stone). All users must travel alone, in a seated position, so walking users must use the seat provided. The wessex VM lifts are compact and have a small footprint. They are made in a range of sizes to suit most users and domestic situations.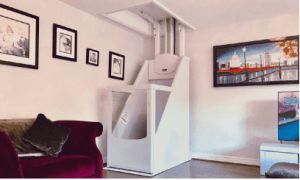 Safety:
As with all the products we supply, safety is paramount. The Wessex VM domestic through floor lifts exceed the British Standard for Powered Homelifts (BS 5900:2012). It has safety sensors to identify obstructions and bring the lift to a stop before they are an issue. The door has a safety locking mechanism for maximum security.


When you are using your VM lift to travel between floors in your home the subtle interior lighting will automatically turn on and also the easy to use controls illuminate and the door locks shut for safety.
Options:
The following options are available for the Wessex VM range of home lifts:
Power Door
Internal Seat
Remote Controls
Custom sizes
Custom colours
If you want to find out more click on the brochure link below or give us a call on 01427 787532. Alternatively you can use the request a callback form on this page to contact us. For details of our service area Click Here.
Brochure:
Wessex VM Through Floor Domestic Lift Brochure
Article on Through Floor Lifts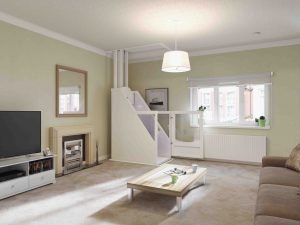 Customer Reviews: