LR Platform Lift
The Wessex Low Rise (LR) Platform Lifts (Step Lifts) are the result of 30 years of design innovations. They are robust, flexible and stylish. As a result of the powder coated finish and superior build materials they are suitable for interior and exterior use. These low rise lifts will lift the user up to a maximum threshold height of 1000 mm. The maximum safe working load (user and wheelchair) is 300 kg (47 stone). Installing a steplift (platform lift) alongside existing steps provides access for wheelchair users. As a result this helps you comply with disability access laws for public buildings. Most importantly, an LR platform lift will open up your building for wheelchair users.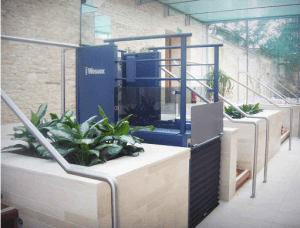 The Wessex LR Step Lifts have safety edges around the platform. These stop the lift if there is an object in its path. Although it is mains powered there is a back up battery. This, combined with manual emergency lowering controls, mean that you will not be stuck, even in a power cut.
Platform/Step Lifts are an excellent alternative to ramps. They make very efficient use of the available space and are generally more suitable than ramps inside buildings.
LR Platform Lift Options:
High Specification Controls
Manual or Power Gates
Travelling Barrier
Bridging System
Glass Infill Panel
Full Height Side Panels
Special Colour Finishes
Special Floor Covering
Key Switch Controls
 Brochure:
LR Brochure (opens in new window or right click and select "save link as" to download a copy)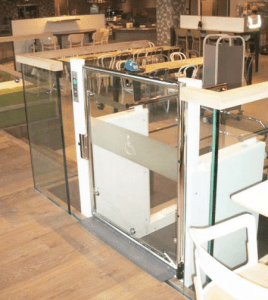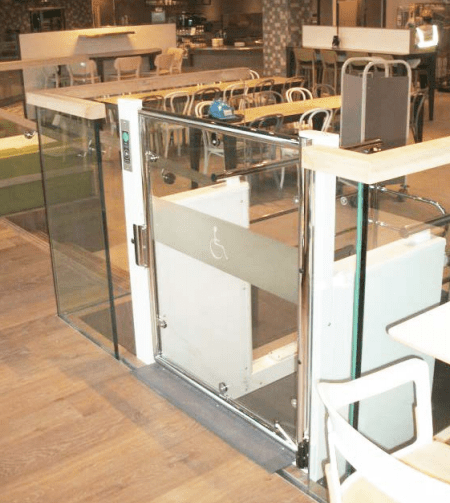 Summary:
The Wessex LR Steplifts (Platform Lifts) are suitable for both domestic and public situations. They are customisable with a range of options making them suitable for a wide range of applications. Their compact size, when compared to ramps, makes them ideal where space is limited. They can be used to gain access to buildings where steps cause an issue or within a building where there are changes in floor levels.
Customer Reviews: