Why do you need 24/7 service with a stairlift?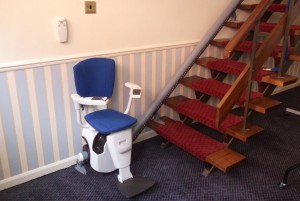 When you have a stairlift, even if you have chosen a reputable company and have had a thorough survey carried out before installation, there is also going to be the potential for something to go wrong. That is likely to be the case with any product you buy.
You can have a great quality car, but that doesn't mean that it won't break down at some point. If your car does break down it can be a pretty urgent and serious situation – especially if you have broken down on the motorway in the middle of the night, it is very cold and you have very young or very old people with you. That is why a lot of people have breakdown cover with a company like the AA, RAC or Green Flag. It means that in the event of an emergency somebody can get out to them as quickly as possible without there being too much stress or additional cost.
If something goes wrong with a stairlift it can also be a very serious situation and even an emergency. For example, someone might not be able to sleep, and so in the early hours of the morning decide to go downstairs and make a warm drink, or to sit and read or watch TV in the lounge. However, it might be that they had not put their stairlift in the charging position, and so it stops halfway down. If the person is on their own, this could mean that they are stuck half way up the staircase on the stairlift, potentially unable to get food and drink or to go to the toilet.
Being stuck halfway up the stairs is a nightmare scenario, but it is still very problematic if something goes wrong with your stairlift when you are either upstairs or downstairs, and so cannot get from one floor to the other. Being stuck downstairs might mean that you are unable to get to the toilet if you only have one bathroom upstairs and that you cannot get your bedroom and so have to sleep in a chair if the issue is not resolved quickly. Being stuck upstairs could mean that you are unable to eat unless someone is able to come round to your house and bring you food.
This is why it is essential that, when it comes to stairlifts, 24/7 means 24/7, 365 days a year. You can't help it when your stairlift breaks down, so you need someone to be available on Christmas Day the same as any other day of the year. You need to feel safe and secure in the knowledge that you are receiving the very highest quality service and aftercare. If you have an issue at 3am, you need to be able to speak to a human being about it and for them to be able to come out there and then. You don't want to be leaving a voicemail message and for someone to be then getting back to you in the morning during office hours and to be coming out to you in a few days time when they can fit you in.
If you were to call Obam in such a scenario, the phone number would be diverted to the mobile phone number of the engineer on call, who would handle it and go out to the home of the caller if required. Obam is extremely proud of the high quality service and aftercare that they provide. To find out more about stairlifts, please visit https://obam.co.uk/product-category/stairlift-main/ or contact our friendly experienced staff who can help you and chat about your options, either by calling 01427 787532 or by email on info@obam.co.uk.