Handicare 1000 Straight Stairlift
Handicare 1000
Founded in 1886 Handicare have been supplying seated stairlifts since 1961. The Handicare 1000 straight stairlift has one of the slimmest tracks available. When not in use, the footrest, seat and arms can be folded up. This means the lift takes up less room when not in use so there is more space for other stair users.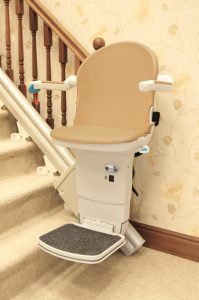 Slimline:
The slimline anodised aluminium track has a hidden rack with two park points as standard. Due to the concealed rack and the anodised finish,  the slim track looks very neat and clean. Having two park (charging) points means the powerful battery can be charged at the top or the bottom of the stairs. As a result, the battery is always fully charged, ready for use. This means the Handicare 1000 can be used even during a powercut as it is battery powered. Once the power is restored the stairlift will charge the battery back to full power as long as it has been left on a park point.
Powered Hinge:
Doorways close to the bottom of the stairs can be a problem for some stairlifts. Not for the 1000 with the optional powered hinge fitted to the track. This lifts the track out of the way of the doorway when the stairlift is not in use.
The Smart Seat is available in a choice of six upholstery colours.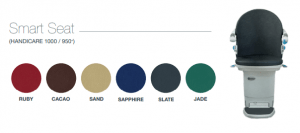 Optional powered features are available including a powered swivel to turn the seat at the top of the staircase and powered folding foot rest to stow it away after use.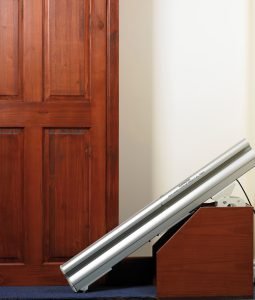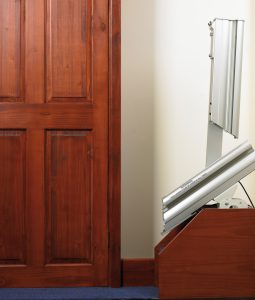 Outdoors:
By making a few modifications the 1000 stairlift is suitable for most outdoor applications. It is therefore the perfect solution if you have steps to your front or back door. It can also be used to access your garden where there are steps due to changes in levels.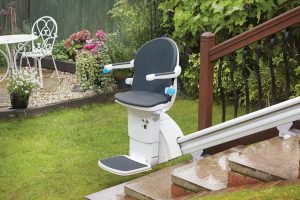 Weight Capacities:
This stairlift is suitable for use by people weighing up to 137kg / 21½st as standard.
An XXL upgrade is available, raising the maximum capacity to 200kg / 31½st.
Brochures:
Straight Stairlift Brochure from Handicare
Outdoor Stairlift Brochure from Handicare
Click Here for the 1000 User Manual