Our Products

Despite popular belief, we provide more than just stairlifts (although this does make up the majority of our products and we're especially proud of that too!).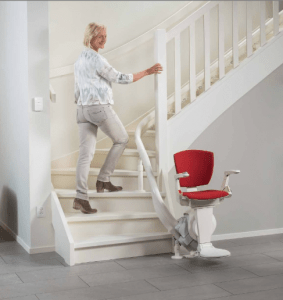 We provide a full installation and maintenance service for all items we sell. These include straight or curved stairlifts, through-floor lifts, ramps and hoists.
We are an independent supplier which means we are not tied to any one manufacturer. We carefully select all the products we supply. Amongst the criteria we use when selecting products are features, reliability and value for money. We therefore 'cherry pick' the best products from a wide variety of manufacturers and accordingly can recommend the most suitable product for you.  This means we can frequently install stair lifts where other companies have said it is not possible.
Incidentally, we have a large selection of reconditioned stairlifts available. These can provide significant cost savings compare to buying a new stairlift. All of our reconditioned stair lifts have been thoroughly cleaned and refurbished to a high standard. Finally, they come with a 12 month warranty for your total peace of mind.
We also offer a stairlift rental service for straight stair lifts. For a one-off payment (which covers the installation and service) and a small monthly fee, we're able to install the right product for you swiftly and at a time to suit you. All servicing and maintenance is included in the rental (terms & conditions apply). As a result you will have no unexpected costs for as long as you continue with the stairlift rental agreement. Then, once you no longer need the stairlift, we'll arrange to come and remove it free of charge. Furthermore, since the stairlift is fitted to the stairs, not the wall, there is no damage to your decor when we remove it
For details of the areas we service click HERE
You can find answers to commonly asked questions on our FAQ page here.
BHTA Guide to Buying a Stairlift