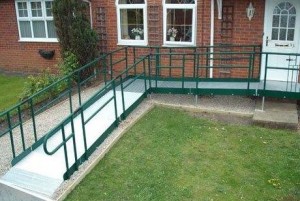 Modular access ramps are very much increasing in popularity and the industry is growing massively, but what exactly are they?
Quite simply, they are a brilliantly effective solution that is very easy to install. They can help elderly and/or disabled people to stay in their own homes for longer.
Modular access ramps give people who are unsteady on their feet or use walking sticks, walking frames or wheelchairs the opportunity to get in and out of their own property which they may not be able to do otherwise. Without access ramps some people might end up having to go leave their own home to go and live somewhere else such as a care home, a relative's home or sheltered accommodation.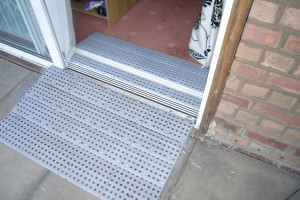 The access ramps are made up of several pieces slotted together – a bit like a giant Meccano set. External ramps are made of either metal or plastic whereas the internal ramps are made of plastic only. A huge benefit of the ramps is that they can be installed quickly and easily, especially in comparison to traditional, permanent concrete ramps. If you were building a traditional concrete ramp it would may take up to a week to install it, depending on the weather, and then you would have to wait a further two or three days for it to settle. However, with modular access ramps, it doesn't matter about the weather – they can be installed within a day, and therefore it is a much quicker, easier and cost-effective solution.
This is important because the shorter the amount of time the person has to wait for the ramp to be installed, the less time they have to spend essentially trapped inside their home, unable to get in or out of their house because they are waiting for the ramp to be completed. Several days are a very long time for a person to be stuck in the house, unable to get out.
Just as the ramps can be installed quickly, they can also be removed quickly. Modular access ramps are temporary rather than permanent, so by installing these ramps you are adapting the property rather than changing it. So, if at any point in the future you decide to move house, then the ramp can be quickly and easily removed so that the people buying your property are not left with something they might not require. Alternatively, if the person who needed the ramp has to go into care or sadly passes away, the ramp can be quickly and easily removed. This means that the potentially sad reminder of the ramp being needed and the memory of a loved one's illness or disability is no longer there.
The fact that the access ramps are temporary means that they are ideal for people who might only be struggling to get in and out of their home for a limited period – for example, someone who has been in hospital, perhaps for an operation, and has limited mobility for a short period of time whilst they are recovering and convalescing. Modular access ramps mean that they don't have to be stuck indoors throughout their recovery time.
So, if you have an issue with getting in and out of your home or around your home for any length of time, getting a modular access ramp installed may very well be the solution. To speak to our friendly and experienced team at Obam about how our modular access ramps could benefit you or someone you know, call 01427 787532, email us on info@obam.co.uk or visit our website http://www.obam.co.uk/.