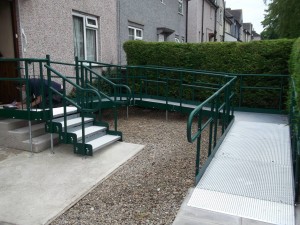 If you are elderly or disabled and are struggling to get in and out of your property, around your home or up and down stairs then it may be that you could benefit from home adaptations such as a stairlift, through floor lift or modular access ramp.
You may feel that you cannot afford this, and that therefore you have no choice but to reluctantly move out of your home. However, there may be a solution that you did not know was available.
Since 1990 local housing authorities have had a statutory duty to provide help for major adaptations to disabled people's homes. This is usually done through a Disabled Facilities Grant (DFG) which disabled owner-occupiers, local authority tenants, housing association tenants, private tenants, licensees and landlords with disabled tenants can all apply for to make their homes more accessible.
In order to be considered disabled, you must fall under one of the following categories:
your sight, hearing or speech is substantially impaired
you have a mental disorder or impairment of any kind
you are substantially physically disabled by illness, injury, impairment present since birth, or otherwise
you are registered (or could be registered) disabled with the social care department
The person needing the adaptation is means tested (unless it is for a child) and, if it is found that they have too much money to be eligible for a grant, then they will need to pay for the adaptations privately. However, the one-off cost of installing home adaptations will still be much less than the ongoing cost of moving into a care home or residential care, meaning that the individual gets to stay in their own home and continue to live as independent a life as possible. The maximum grant available is £30,000 in England, but local authorities may be able to help top this up with other available schemes (at their discretion).
The grant must be used on work that has not yet been carried out and can only be used to meet the cost of adapting a property to meet specific needs. It is to allow people to use their bedrooms and bathrooms, to get in and out of their homes, to get upstairs and to get out to their gardens. Examples of what the money can be used for includes:
funding the installation of a stairlift or through floor lift to help people get upstairs
widening internal and external doorways to help people get into and around their homes
installing ramps to help people get into and around their homes
building extensions for a downstairs bedroom or bathroom
adapting or providing suitable washing, bathing, showering and toilet facilities
providing shallow steps
adding handrails or low-level kitchen fittings to facilitate food preparation and cooking
providing access to gardens
There is a huge cost benefit for local authorities to pay for people in need to have adaptations installed rather than move them into a care home. The average cost of a placement in residential care is £29,000 per year, whereas the average cost of installing adaptations is £7,000. On top of this, adaptations allow older people to stay in their own homes and postpone moving into a care home by four years on average (according to Foundations). This means there are huge cost savings for councils of paying for home adaptations.
Obam works with local authority customers and private customers to supply and install home adaptations. To find out more about how Obam could help you or a relative, please visit http://obam.co.uk/ or contact our friendly experienced staff who can help you and chat about your options, either by calling 01427 787532 or by email on info@obam.co.uk