Homeglide Stairlift for Straight Staircases
Here at Obam, we're proud to offer the HomeGlide stairlift designed for straight staircases. The HomeGlide stairlift from  Access BDD is one of the most popular and reliable products when it comes to straight stairlifts. This makes the Homeglide the ideal solution for straight staircases.
Installation of the HomeGlide is very quick due to the simplicity of the design. Each Home Glide stairlift fits directly onto a staircase cleanly and discreetly. It glides effortlessly along a sleek aluminium track.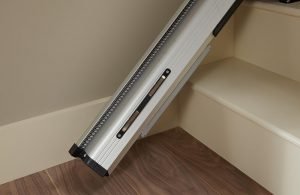 Comfortable
Designed with ergonomic experts, the HomeGlide uses a seat which positively influences your posture while offering maximum comfort. It has thick and luxurious padding to giving you a firm and comfortable position. The Homeglide is available in several finishes and colour options that allow you to match it to the style of your home.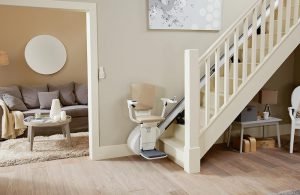 Automatic Swivel Seat
The HomeGlide Extra comes with a manual swivel seat as standard. You can upgrade to the powered swivel seat if you require. This allows you to turn the chair effortlessly at the top or bottom landing simply by maintaining pressure on the joystick. This allows a safe exit from the chair as the lift automatically rotates away from the open staircase – making getting on and off even safer and more comfortable.

Keeping you Safe
The HomeGlide stairlift is certified to machine directive 2006/42/EG and BS EN 81-40. During travel, the retractable seat belt will keep you secure on the stairlift. When the lift encounters an obstacle, it will safely come to a stop. This is a result of  special safety edges on the drive unit. Internal batteries power the Homeglide stairlift. When the stairlift is not being used the batteries are continually charged. During a power cut you can still use the Homeglide stairlift. The batteries will be recharged when the power is restored.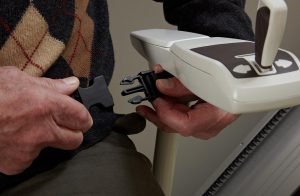 Request a Quote
If you would like to learn more about the HomeGlide straight stairlift, please contact us to arrange your free no-obligation quote.
Brochure:
Click Here for the Homeglide brochure.
Click Here for the Homeglide User Manual.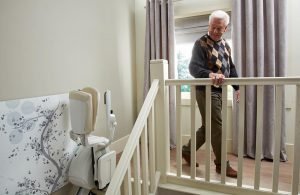 Customer Reviews for the Homeglide stairlift: