Otolift TWO Curved StairLift
The Otolift TWO Curved Stairlift is compact with a contemporary design. To begin with it is a highly reliable, quiet stairlift. With the bespoke twin rail design it negotiates tight bends with ease. Furthermore every track is custom designed for each staircase.  This ensures the best possible fit, with the fewest joints for a smooth ride. The unobtrusive track consists of twin 45mm slimline diameter tubes mounted very close to the wall or handrail. Therefore the TWO is the ideal stairlift for narrow, curved stairs.
With a lifting capacity up to 130kg (20.3 stone), the TWO has one of the largest standard capacities for a curved stairlift on the market today. It is powered by heavy duty, rechargeable batteries. When the stairlift is not in use the batteries are topped up automatically. Consequently it is always ready for use, even during a power cut.
The arm mounted, ergonomic control is very comfortable and easy to use. Two remote controls are supplied to summon the lift at both the top and bottom of the staircase. Likewise both the manual swivel and footrest are very easy to use (see videos). Together with the soft start stop and bespoke rail the ride is very comfortable and smooth.
For maximum safety there is a retractable lap seat belt and safety sensors all round. As a result,  the stairlift will stop if there is an obstruction on the stairs. Also, to prevent unauthorised use, for example, by children, the lift is lockable using the remote controls and there is an on/off switch as well.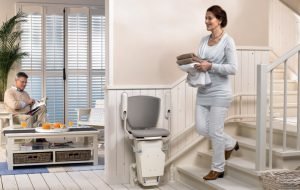 Optional Additional Features Available:
Powered swivel seat – For ease of use and safety at the top of the stairs.
Powered folding footrest
Top overrun – The track continues over top step to take user away from danger at top of stairs.
Retractable hinge rail if there is a doorway close to the bottom of the staircase.
Heavy duty capacity 150kg (23 ½ stone) available
Wider seat available
Perch chair available enabling travel in a more upright position
4 or 5 point safety harness available
Extra seat depth available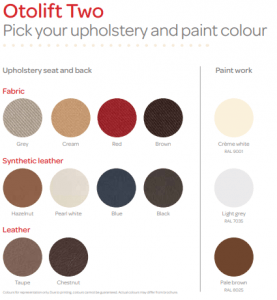 A video showing that there is plenty of room for other stair users:
Downloads:
About the manufacturer:
Otolift are a family run company founded in the Netherlands in 1891. They have been designing and manufacturing stair lifts for over 45 years. They are innovative and provide excellent attention to detail. There are in excess of 160,000 Otolift Stair lifts installed throughout the world. Incidentally, a new Otolift Stairlift is installed every 9.5 minutes!
Customer Reviews for Otolift Stairlifts: