Family Business Award Finalist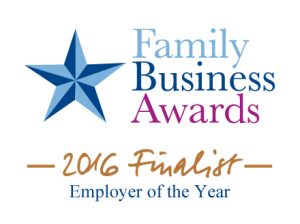 Obam Stairlifts has been named among the finalists in the Midlands Family Business Awards Employer of the Year category at the regional awards which celebrate those businesses run by families.
Director Chris Butroid said: "Me and my brother Steve are two of the four directors at Obam and we have always maintained that our team is one of our major strengths, so to be shortlisted in this category is a real privilege.
"Fellow directors Lee Ogden and Pete Morley also champion the family element of our set up which is echoed across the company and we are always looking for opportunities to invest in our team through additional training and support, so that we can best serve our customers."
Since setting up the company in 2000, the Obam team has grown steadily to 19 people and includes office staff and engineers from across the county.
Sales Manager Mark Buckley attended the Midlands Family Business Awards launch event held at Donington Hall near Derby on Thursday 8th September.
Mark added: "We know that by employing people who share our values and supporting them throughout their career with Obam that they'll feel empowered and able to deliver great customer service to our wide client base."
As well as being shortlisted in the Employer of the Year category the company is automatically eligible for the People's Choice Award, which is voted for by the general public via www.familybusinessawards.co.uk.
Obam's customers, clients and suppliers are invited to show their support by voting via the website when it launches on Monday 3rd October. It will close at the end of October and the business with the most votes will be presented with a winner award while the runner up will receive a highly commended.
Representatives from Obam will attend the award ceremony at the Great Hall in Birmingham University on 17th November.