What are the benefits of installing a stairlift?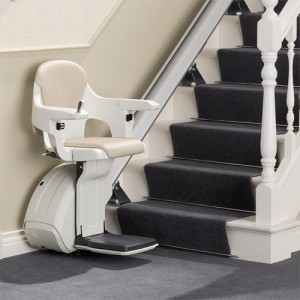 The benefits of stairlifts are far-reaching. However long you have been living in your home, whether it has been for most of your life or just for a few years, the chances are that you are happy there. You know the neighbourhood and probably live near to your family and friends. You almost certainly won't want to be forced to move out and into a bungalow or care home simply because you can no longer get up and down the stairs. Moving is stressful and expensive, so if you can avoid having to move by installing a stairlift, why wouldn't you?
Stay at home:
A stairlift is an efficient, simple solution which means that you don't have to move out and can stay in your home. The user simply sits on the seat and is taken from the bottom of the stairs to the top and vice-versa, enabling people to easily go up and down stairs that otherwise would not be able to. In short, a stairlift can make a person's life much easier and more comfortable, allowing them to continue to sleep in their own bed and get to the bathroom easily.
They are extremely varied and flexible, so your stairlift installation company should be able to find the right type of stairlift to suit both the staircase and the individual using it. So, even if there are objects in the way like radiators, items of furniture, electricity & gas meters or cupboards, or if there are turns in the staircase, the staircase is very narrow, the steps are very high, there will usually be a stairlift available that is appropriate for the situation. Likewise, there are plenty of options available depending on the size of the individual and the capability of the individual. What type of stairlift someone needs is very much dependant on their height, weight and whether they can walk to it or need to be transferred onto it from a wheelchair. Ultimately, a stairlift is not a one size fits all product, and, in most cases, can be the solution to an individual's problem.
Cost effective:
A stairlift is also relatively cost effective, cheap to run and quick to install. The disruption is minimal with most installations only taking a few hours. It can also be temporary. As stairlifts are fitted to the stairs rather than to the wall, they can be taken away as quickly as they are installed. This therefore means that if someone goes into hospital and has a major operation, comes home but cannot manage the stairs for a few weeks or months as a result, they can have a stairlift installed as a temporary measure to allow them to go upstairs to bed. The stairlift can then be easily taken out when they are fully fit again. It also means that if you do decide to sell your house, the stairlift can be easily taken out.
Contact us:
To find out more about stairlifts, please visit our stairlifts page or contact our friendly, experienced staff who can help you and chat about your options, either by calling 01427 787532, filling in the brief form here or by emailing info@obam.co.uk
We are happy to demonstrate the benefits of stairlifts to you. We have a comprehensive showroom at our offices in Sturton by Stow, Lincolnshire. Home visits* to discuss the benefits of stairlifts, and survey your stairs at the same time are free and without obligation. Surveying your stairs is a quick process and means we can provide an accurate price for you.
*Free home visits are available within our service area.