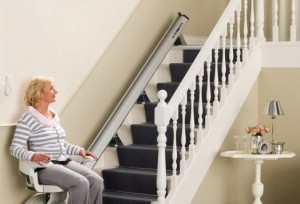 The home adaptations industry is a rapidly growing one, meaning that there are a wide variety of options available when it comes to choosing a stairlift.
Generally, stairlifts all serve the same purpose, which is to get the user from the bottom of the stairs to the top of the stairs, and from the top of the stairs to the bottom of the stairs.
However there are two key types of stairlift: straight stairlifts and curved stairlifts. Straight stairlifts are generally relatively straightforward, but curved stairlifts tend to be more complicated, as there are more criteria and considerations to take into account. For example, what constitutes a curved staircase? It could be a flight of 12 stairs in a straight line, then a landing platform, and then one step going in a different direction.
So, it is important to be aware that when it comes to choosing a stairlift, there cannot be a "one size fits all" approach, and therefore you should not buy the first stairlift that you see, or be forced into choosing a stairlift on the day. It is vital that when choosing a company to install a stairlift for yourself or for a relative that you choose a company that will carry out a proper survey. A company will need to know the answers to a lot of different questions before they can advise you on what type of stairlift is right for you.
The type of stairlift you need will depend on a number of issues. Firstly, where it is being installed? Issues such as whether or not there are radiators, handrails, gas or electricity metres in the way, or something protruding such as a cupboard are all factors that need to be considered. The width of the staircase, the angle of the staircase, the height of the steps, and how many different flights of stairs are present are also important factors, as is what's at the top of the landing or the bottom of the staircase. It might not seem like an issue, but someone might have a sideboard at the bottom of their staircase which is very important to them because it belonged to their deceased spouse, and therefore they don't want it moving. In such a circumstance a stairlift would have to be found that could provide a solution to this problem.
The other key issue when choosing a stairlift is the user themselves. What type of person are they? Are they tall or short, are they light or heavy? For example, if someone is very small then there can be issues with them getting up onto the stairlift, the footrests and the height of the seat. What the user is capable of doing and what are their individual requirements, such as how far can they walk or where are they being transferred from, and the person's back to knee measurements, are all key factors when deciding what sort of stairlift to install.
You also need to consider after service when choosing a stairlift installer – if you have a problem with your stairlift at 3am for example, and you are stuck at the top of the stairs, or even worse, half way up the stairs, is your stairlift provider going to come immediately, or are you going to have to wait until the morning or in several days time?
Finally, although the needs of the user have to be foremost in your mind when choosing a stairlift, it is also important to consider the needs of the other people who live in the house who won't be using the stairlift and have to live and work around it.
Obam will carry out a complete and comprehensive survey to assess your needs when installing a stairlift, and offers a 24 hour a day, 7 days a week, 365 days a year call out service. To speak to Obam's experienced and friendly staff about your stairlift needs, please call 01427 787532, email info@obam.co.uk or visit http://www.obam.co.uk/